Leading Parent Partnership Award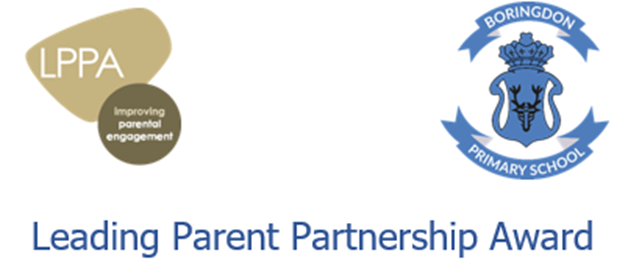 Our Commitment to Leading Parent Partnership Award
At Boringdon Primary School, we value the support and contribution our parents and carers make to their children's education. We aim to support our families in a variety of ways and are hoping to have our excellent partnership recognised by being awarded with the Leading Parent Partnership Award (LPPA).
LPPA:
Supports the effective transition of children and families through or between schools
Increases participation in school life by including all groups of parents in their children's learning and in developing their own learning.
Improves communication by ensuring school is a welcoming, communicative and friendly place for parents.
Provides clear guidance on the responsibilities of parents, school and pupils and enhances the induction process.
Helps to support the production of parent-friendly policies to establish effective home-school links.
How can families help us gain the award?
Read all information that we send out.
Come along to events we organise if you are able.
Complete any questionnaires or feedback slips as honestly as you can.
Please see the website or Mrs Jenkin or Mrs Connett for further details:
admin@boringdon.plymouth.sch.uk
Updates
Thanks to parental feedback from surveys and the work of the LPPA working party, we have made some significant changes with more to come!
We have improved the training and development opportunities through organising workshops by the Mental Health Support Team on 'Understanding my child's anxiety', 'Helping my child manage worry' and 'Self-esteem, resilience and confidence'. The first workshop was very successful. All the parents/carers who attended reported finding it very helpful and that it would have a positive impact on their parenting. More workshops are planned this academic year and next. We are trialing workshops at different times of the day to make them accessible to as many parents/carers as possible.
We have improved signage across the school so that internal and external location/direction signs and symbols meet the needs of parents when visiting the school. This has included signage of the 'Pod' classrooms. We have also made sure that the school's vision statement is displayed prominently.
Watch this space for more updates regarding Home /School communications.